Castle of Pierrefonds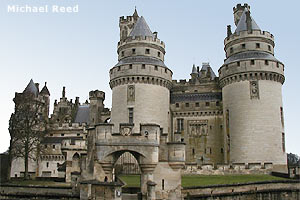 Click on one of the headings below :
One of the most beautiful monuments and oldest which France has ". Thus expresses itself Viollet le Duc, the French architect of the XIXe century which contributed the most to the study of the monuments of the Average Age and to their restoration (quoted of Carcassonne, Palais of the Popes of Avignon, Our-Lady of Paris, inter alia). In Pierrefonds, Viollet le Duc at the same time finds the occasion to rebuild an extremely standard castle of the beginning of XVe century and to still express his creative personality, all impregnated romantic spirit. But the essence of its restoration allows us, in spite of certain freedoms of interpretation, to approach this time when France cumulated on its territory civil war and war with its English neighbors. It was about the years 1400, in full One hundred year old war...
Casteland thanks the company the Durable Moment which provided documentation on the castle of Pierrefonds. If you liked the castle of Pierrefonds, the Durable Moment proposes models 3d to be built to you for less than 29€.
The castle is open all days :
- Du 2 mai au 4 septembre de 9h30 à 18h
- Du 5 septembre au 30 avril de 10h à 13h et de 14h à 17h30 (fermé le lundi)

Last access 45 mn before closing

The castle is closed on January 1, May 1 and December 25.

Tarifs :
Plein tarif : 6.50 €
Tarif réduit : 4.50 €
Tarif groupes adultes et professionnels du tourisme : 5.30 €
Forfait scolaires : 30 € par classe et 20 € pour les écoles classées en ZEP