Castle of Chambord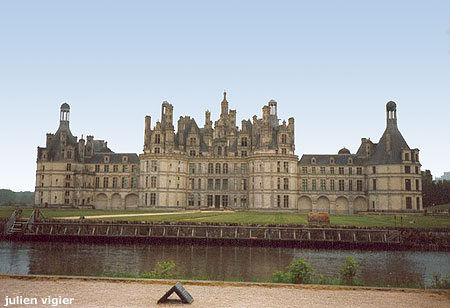 Click on one of the headings below :
History of the castle
Description of the castle
The castle of Chambord niche in the heart of the savage national forest of the same name. Its bored massive frontage of innumerable windows emerges abruptly from vegetable cover to the turning of a way. François Ier, king of all excesses, with selected disproportion for this extraordinary realization.
The castle is open all days :
Le château est ouvert toute l'année, sauf les 1er janvier, 1er mai et 25 décembre.
Du 2/01 au 31/03 : 9h - 17h15
Du 1/04 au 13/07 : 9h - 18h15
Du 14/07 au 20/08 : 9h - 19h30
Du 21/08 au 30/09: 9h - 18h15
Du 1/10 au 31/12 : 9h - 17h15

Dernier accès ½ heure avant la fermeture du château Espaces accessibles aux personnes à mobilité réduite : accueil, billetterie, rez-de-chaussée du donjon avec salle audiovisuelle, toilette et boutique.

Les animaux ne sont pas admis dans le château.

Tarifs
L'entrée du château est gratuite le premier dimanche de chaque mois de novembre à mars

plein tarif : basse saison (septembre à juin) 8,50 € haute saison (juillet-août) 9,50 €
tarif réduit : 6 € pour les 18-25 ans et groupes plus de 20 personnes gratuité : enfants jusqu'à 18 ans en famille.
tarif professionnels du tourisme : 5,50 € (organisme déclarés en préfecture) vente de billets à l'avance - utilisation du voucher, nous consulter
groupes enfants : du 1/10 au 31/03 : gratuité scolaire du 1/04 au 30/09 : 2 € / enfant Nous consulter pour les gratuités accompagnateurs